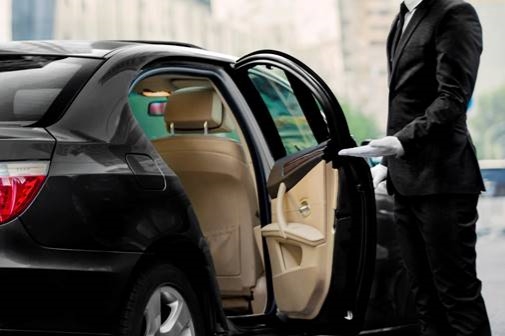 Silversea Cruises has formed an exclusive collaboration with the global chauffeur service Blacklane, offering guests private executive transfers


Now more all-inclusive than ever, Silversea Cruises has become the first ultra-luxury cruise line to offer guests private executive transfers as standard, having entered into an exclusive collaboration with Blacklane—the global chauffeur service. Enhancing the seamlessness of travellers' journeys, guests will have the option of being collected from their homes in a private chauffeured vehicle and transferred up to 50 miles (approximately 80 kilometres) to their local airport or directly to the ship. The same luxurious service is also available on guests' return journeys. Available on new full-fare bookings, the service enhancement will roll out across Silversea's ultra-luxury fleet on voyages departing from 30 March 2022.* Silversea's new private executive transfers are available in over 200 cities in over 50 countries around the world.
Roberto Martinoli, Silversea's President & CEO says :
"We are delighted to offer our guests a full door-to-door journey on all voyages, further enhancing our all-inclusive offering for guests' convenience.

Travelling with Silversea enables guests to enjoy outstanding comfort and convenience as they discover the world. With the introduction of Blacklane's chauffeur-driven transfers, we are extending our trademark level of service to begin from the moment travellers leave their homes and end when they have returned. We have, once again, exemplified our commitment to exceeding travellers' expectations."
Jens Wohltorf, Co-founder and CEO of Blacklane says :
"We're honoured to set a new standard in the ultra-luxury cruise experience. With our private chauffeur service, the first and the last miles of guests' trips are now built into the Silversea itinerary. It's a five-star experience door to door."
With the inclusion of a private chauffeur service to and from guests' homes, Silversea is building on its broad-ranging all-inclusive offering, which is already among the most comprehensive at sea. In November 2020, the leading ultra-luxury cruise line introduced complimentary shore excursions, roundtrip air, and transfers between the airport and ship as standard on all voyages – both classic and expedition voyages – in its new 2022/2023 itinerary collection.
Find out more information on Silversea's new door-to-door service and its all-inclusive offering: https://www.silversea.com/lp-private-executive-transfers.html
Please refer to https://www.silversea.com/health-and-travel-notice.html for the latest health and travel advisories pertaining to cruise travel.
*Silversea's door-to-door service is available on all public full-fare bookings, including special combination fares, Grand Voyages, and full World Cruises. Transfers that exceed 52 miles are available at an additional cost.
About Silversea
Part of the Royal Caribbean Group, Silversea Cruises is recognised as an innovator in the ultra-luxury cruise industry, offering guests large-ship amenities aboard its intimate, all-suite vessels: Silver Wind, Silver Shadow, Silver Whisper, Silver Spirit, Silver Muse and Silver Moon – all designed to offer an atmosphere of conviviality and casual elegance. With the inclusion of the expedition ships Silver Origin, Silver Explorer, and Silver Cloud, Silversea's itineraries encompass over 900 destinations across all seven continents and feature worldwide luxury cruises to the Mediterranean, the Caribbean, the Galapagos, both Polar Regions, and hundreds of fascinating destinations in between. Silversea is also looking forward to the launch of three new ultra-luxury ships: Silver Dawn and two Evolution-class ships. Browse Silversea's blog, Discover, and subscribe to receive the latest content directly into your inbox.
About Blacklane
Blacklane's global chauffeur service brings peace of mind to travellers moving through a fast-paced world. The crew's dedication to safety, reliability, and smart technology places Blacklane at the forefront of a new era of stress-free travel. Since 2017, the company has been carbon-neutral, combining a five-star guest experience with care for the planet. Upgrade your travels on Blacklane's mobile apps or website.